Create your property ad for FREE
OR
nestbook.co.uk is the easiest way to find a tenant for your flat, or the spare room you have in your house in London or anywhere in the UK
Whether you have a house, an apartment, a flat, a townhouse, or a spare room in your house our mission is to promote your "property sale ad", or your "property for rent ad" to as many potential customers as possible, and to help you to generate new leads
We offer a FREE account
You can publish FREE listings to advertise the properties you have to rent or to sell
You can create a flatshare, or houseshare advert, and target tenants looking to rent only a single or a double in your house or flat
Buyers and potential tenants contact you directly using the nestbook.co.uk messaging tool
You can view the profile of the person that enquire about the property you are renting or selling. This functionality is very helpful for demanding landlord who want to find the best possible tenant for their apartment or for their house.
One of the unique features of nestbook.co.uk is that it allows people looking for a home or flat to buy or to rent, to place a free home-wanted-advert, and make sure people with homes can find them.
We do not charge any commission on your leads & deals
Advertise your property for free in 4 easy steps:
Property Listing Console
Log in to nestbook.co.uk, and click the + Place an offered ad button
Create new property advert
Specify where your flat for sale or your home for rent is located, by typing in the name of the city or the post code.
Move the cursor on the Google map to the exact location of your house or apartment.
The address that will be displayed in your property listing will appear at the bottom of the screen. If required you have the option to format the populated address of your property.
Fill in the Create new property advert form
Specify either you are looking to sell or rent the property you have available.
Specify if your property is a house or a flat
Fill in the remaining fields specified in the property advert form. It is very important you choose a meaningful title and description for your property advert
Add photos to your property listing
Bring your advert to life by adding photos of your property. Ideally you should upload at least one photo for each room. Pictures of the surrounding areas are also important for any potential tenant or buyer interested in your property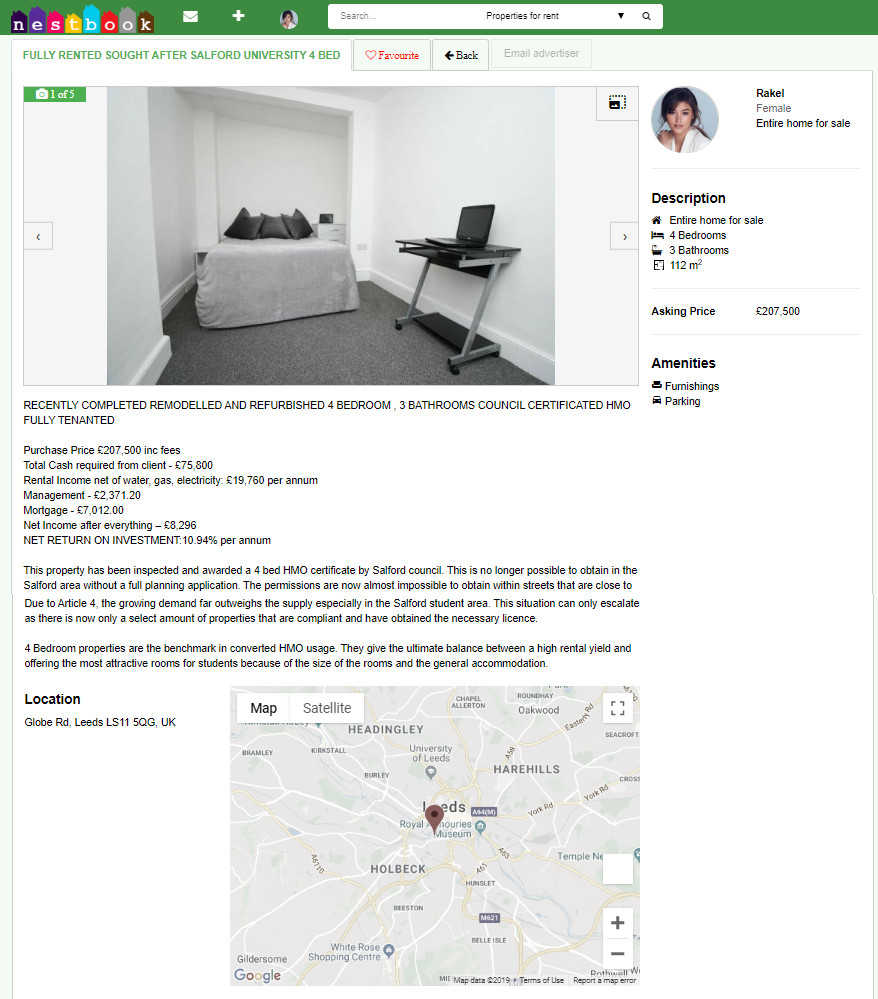 Well done! Your property listing is live!
Your free listing on nestbook.co.uk is live. nestbook.co.uk uses a responsive web design and your house for sale or flat for rent listing will look great on any device screen including mobile phones, tablets, laptops, and desktop computers. From the property listing page, users can navigate to your own dedicated branded page.
Free Membership Includes: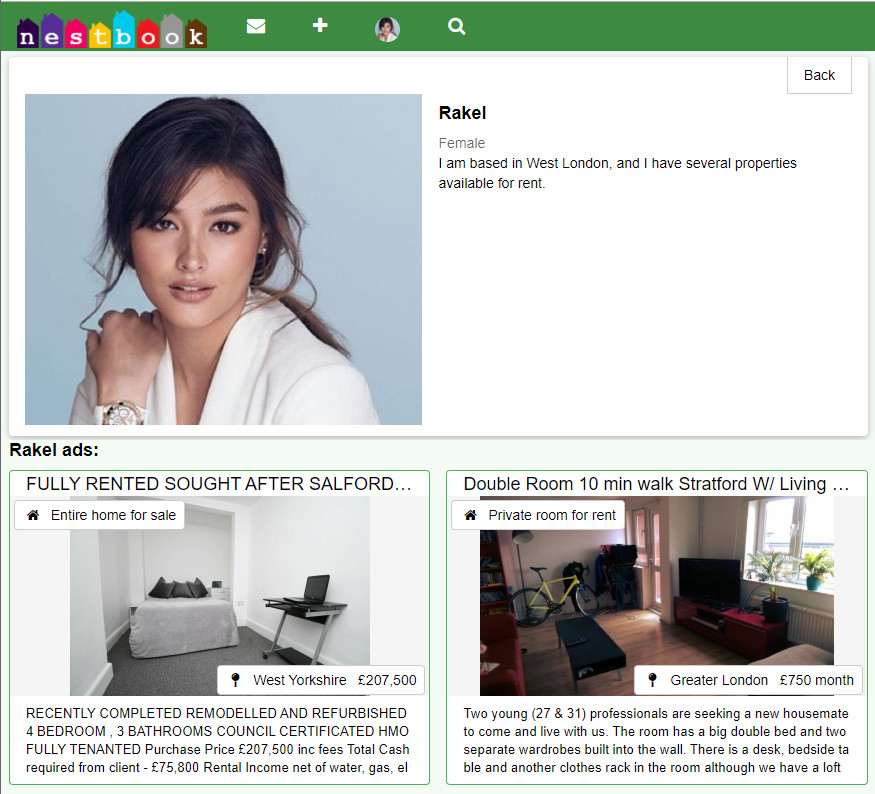 Up to 2 property listings per profile
Basic estate agent branded page
Up to 15 pictures for every property listing
Location information for every property using Google map
List of amenities for each property post
Mobile, and tablet responsive pages
Buyers and potential tenants contact you directly using the nestbook.co.uk messaging tool
Search profiles of users looking for an accommodation
Premium estate agent branded page. In addition to your property portfolio, the page displays your company description, office location, and additional custom information
Your listings will be displayed on the nestbook.co.uk home page
Your property listings will be more visible and often displayed before the standard listings
A higher number of live property listings (check our advertising plans for more details)
Your company logo will be displayed on the nestbook.co.uk home page. When customers click it they will be directed to your company web site or to any web site you want.
Dofollow link linking nestbook.co.uk to your real estate website
Endless Support